New York's famous Brooklyn Bridge was officially opened on May 24 1883 by President Chester A Arthur and has since become an instantly recognisable feature of the city. The bridge has also become something of a final destination for many unfortunate people who have jumped from it, the first person to do so was 'Professor' Robert Emmet Odlum, who was apparently urged to do so by a man from County Kildare, Ireland. Born on August 31st 1851 into an Irish American family in Ogdensburg, New York, Odlum was named after the romantic revolutionary leader Robert Emmet. His older sister Charlotte Smith was active in the women's rights movement while Odlum's brother David fought with the Union army during the Civil War but disappeared after the Battle of Shiloh.
For years the Odlum family travelled the United States in search of David but no trace of their loved one was ever found. Odlum was an avid swimmer and in the late 1870s he set up a swimming school called the Natatorium in Washington DC. It was there that he gained the 'Professor' title in his name as he became swimming tutor to sons and daughters from many of the city's prominent families, including the sons of President Garfield and the daughter of General Sherman. He became something of a local celebrity in Washington for his swimming feats which included diving into the Potomac river from steamers and diving from 90 feet at Occoquan Falls in northern Virginia. I suppose you could call him the Evel Knievel of his day.
In 1881, Odlum's swimming school began to lose money and he decided to close it. He then found employment as a swimming instructor at Fort Monroe, but the lure of fame and glory proved too much to resist and he had plans to make a most impressive dive from the nation's newest infrastructure. In 1882, Odlum managed to sneak into an unfinished part of the Brooklyn bridge and was in the middle of removing his outer clothes when police caught him. Explaining that he had a made a $200 bet that he could successfully dive from the bridge, regardless, the police were having none of his guff and promptly put him on a train back to Washington.
Odlum's friend Paul Boyton was also a daredevil, known as the 'Fearless Frogman'. Boyton was born in Rathangan County Kildare on June 29th 1848, but grew up across the Atlantic in Pennsylvania. At the age of 15 he joined the U.S Navy and later founded the United States lifesaving service in Atlantic City. Boyton invented a rubber suit to swim across miles of water and attempted to jump off a steamer from New York to Southampton to show off his new invention but, the ships captain feared he would die and locked Boyton into his cabin. When they were 7 miles from the Cork coast of Ireland, the captain let Boyton out and he successfully jumped and arrived to ecstatic crowds at Cork harbour.
Boyton was credited with inventing water parks and chute the shoots amusement rides. In 1894 he opened the worlds first water park 'Paul Boyton's Water Chutes' in Chicago and a year later opened the 'Sea Lion Park' at Coney Island. This was a time in America when daredevils and stuntmen were the rockstars of their day and the likes of Boyton and Odlum pushed those boundaries in their quest for such fame. On May 19 1885, Odlum decided to dive from the Brooklyn Bridge again. Rumours of Odlum's second attempt at jumping off the bridge had been flying around New York in the weeks leading up to the tragic event and it led police to heighten security on the bridge.
On the day of the jump, police were alerted to a suspicious character in a cab which was parked up on the bridge. It was of course a decoy arranged by Odlum. He was in another car hiding beneath a covered flatbed. Instructing his friend, James Haggart to serve as a decoy, at the same time, below on the river was a tugboat full of more friends who eagerly waited for the deathly spectacle. Among them was Tipperary born boxer Paddy Ryan, the wrestler and son of Irish emigrants William Muldoon and Kildare's Boyton. While the police were busy with the decoy, Odlum stepped out from the car he was in. Already dressed in his swimsuit he made a quick dash over the railing where he made his leap of death at 5:35pm.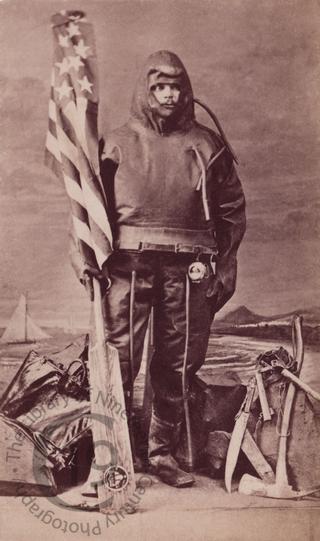 It is said that Odlum hit the freezing water at approximately 60 miles an hour. There was a strong cross wind and it contributed to the disastrous way Odlum struck the water. Boyton was one of those who dived into the water to bring him on board the tug where efforts were made to resuscitate him. He regained consciousness only briefly and asked did he make a good jump before losing consciousness again. Odlum eventually died at 6:18pm from internal hemorrhaging. Odlum's mother and sister placed the blame for his death on Boyton who they claimed persuaded Odlum to take the death plunge from the Brooklyn bridge. Boyton refuted these claims and published an open letter to Mrs. Odlum in the New York Times denying any involvement in her son's death.
Unlike his friend, Boyton managed to escape an early death through his madcap stunts, dying instead at the age of 76 on April 19 1924 and was buried in Holy Cross cemetery, Brooklyn. The body of Robert Emmet Odlum was taken back to Washington DC where he was buried at Mount Olivet Cemetery. Among the many floral tributes for the 33 year old was a model of the Brooklyn bridge.