THE PLAYLIST #10 | The correct way to listen to The Life of Pablo
Welcome to THE PLAYLIST, where we pick a theme and, er, make a playlist around it. Sometimes you might get an essay, other times you might get just one sentence as a precursor to the laser-focused audio delights that await below. Take it away, Craig Fitzpatrick...
Hi, I'm history's greatest monster.
Judging by the guffaws, derision and nigh-on outrage that I met with when revealing that I had dared to Frankenstein it up a tad with Kanye West's latest long-player The Life of Pablo (you might have heard of TLOP, Ye memorably refers to having sex with Blac Chyna on it), the old-school sanctity of the 'album as high art' amongst Dublin's hipsters and contrarians appears to be totally secure.
In fact, maybe lengthy waiting times, shock releases and exclusive streaming deals have actually served to vault the form up to properly elusive heights over the past few years.
Advertisement
If a major artist is attempting to get subversive or make a statement over the course of an hour or so despite flagging sales, how dare you mix it up with the resulting meisterwerk?
As a pretty major Ye-sayer – I visit the kanyetothe.com forum several times a week for chrissakes – I can be as reverential about Mr West's LPs as anyone. My Beautiful Dark Twisted Fantasy – unimpeachable brilliance. The College Dropout – okay some of the skits are a bit naff…
But I'm darned if anyone is justified in bringing the ruckus just because I decided a little rearranging and trimming could perhaps improve an album graced with the late addition of 'Siiiiiiiiilver Surffffeeeeer Intermission', a Wiz Khalifa dig dressed up as a rambling if vaguely sweet minute-long phonecall with imprisoned wavy pioneer Max B.
I mean, really, fiddle with a record containing that? No one man should have all that power, apart from Kanye West.
"I am become Death, rearranger of albums."
It's not that I wasn't tied to the totally-imperfect but still aces TLOP. It's just that I had also been tied to So Help Me God, SWISH, Waves and whatever other title West decided to throw on the thing as he ranted on Twitter and it quickly became clear that maybe the studio progress was a little helter-skelter. It was very upsetting, just ask Father John Misty.
NO SWISH WHY GOD NO

— JON "TRXXXTH" MISTY (@fatherjohnmisty) January 27, 2016
Not only was he mixing things up right at the death – making 'Ultralight Beam' his opener likely had to do with its reception at the start of his Madison Square Garden fashion show/album launch weirdness – he continued to make minor alterations when the thing was already on TIDAL.
Then he ended up calling TLOP not so much an album as a "living breathing changing creative expression" and, needless to say, I had the last laugh.
In a way, my "playlist" is pretty faithful, based as it is on another Kanye tweet. Going back to when the album was totally wavy, the three clear acts noted in this running order intrigued me. Also, the fact "Kim never left"? I'm sure we're all thankful she hadn't popped down the shops when Ye made that Taylor Swift call that desperately needed Snapchatting.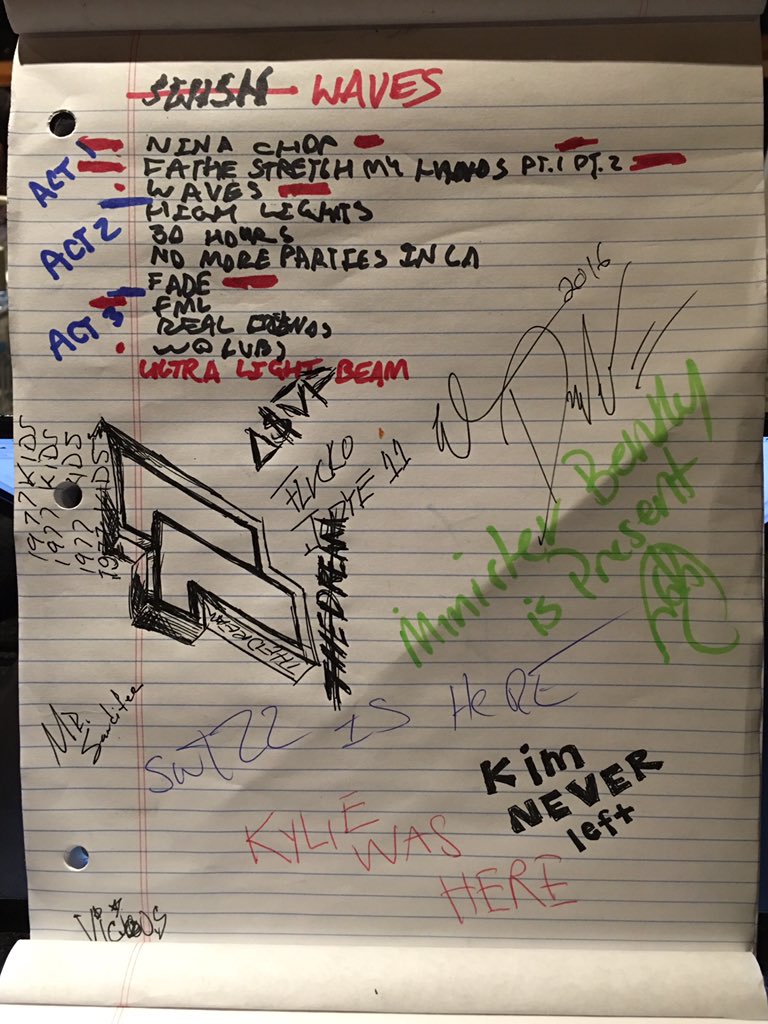 Lyrically, it gives a clear narrative to the record, as 'Famous' kicks things off with that line, we segue through the braggadocio, bleached assholes and stolen sandwiches of the opening act, through the disillusionment of the likes of 'No More Parties In LA' and 'Real Friends', before we get the reflective, altogether-nicer family man and the serene exit of 'Ultralight Beam'.
It takes that idea West had of tapping into aspects of the lives of both Pablo Escobar and Pablo Picasso, the extremes of that infamy and creativity, and applies a logical storyline of sorts to it. And it's 47 minutes, which means it will feel way shorter than reading this waffle. Probably need to concentrate on ruthlessly editing my own work more than Kanye's. Anyway, I present to you my Pablo chop…
[iframe id="https://embed.spotify.com/?uri=spotify%3Auser%3A1155668417%3Aplaylist%3A59bn1m1yvSQumHc11luXdc"]